George Caird – Oboe
Since 1970, George Caird has combined a career as an oboist with one as a music educationalist, firstly teaching and later in senior posts at the Royal Academy of Music, Royal Birmingham Conservatoire, Codarts Rotterdam and the Royal Welsh College of Music and Drama.
George studied the oboe with Janet Craxton and Evelyn Barbirolli at the Royal Academy of Music, with Helmut Winschermann at the Nordwestdeutsche Musikakademie, and privately with Neil Black.  He subsequently gained an MA in music at Peterhouse, Cambridge, graduating to pursue a freelance career as an oboist.
He worked with many of London's major orchestras and was a member of The Academy of St. Martin-in-the-Fields from 1983 to 1993 whilst also devoting much time to chamber music. He has been a member of a number of leading ensembles, notably as a founder-member of The Albion Ensemble, Vega Wind Quintet and Caird Oboe Quartet.
George has been a committed teacher and educationalist throughout his career. He joined the Royal Academy of Music as professor of oboe in 1984, became Head of Woodwind in 1987 and Head of Orchestral Studies in 1989. In September 1993, George was appointed Principal of the Royal Birmingham Conservatoire, Birmingham City University a post that he held until August 2010.  From 2011 to 2016, George was Director of Classical Music at Codarts Rotterdam and in 2017 he was appointed interim Principal of the Royal Welsh College of Music and Drama in Cardiff.
George is married to the cellist Jane Salmon. He has five children Adam, Oliver, Edmund, Iona and Elizabeth (Lizzie) and eight grandchildren, Jonah, Miles, Casper, Isla, Eva, Rosa, Nina and Lyra.
Jarek Augustyniak – Bassoon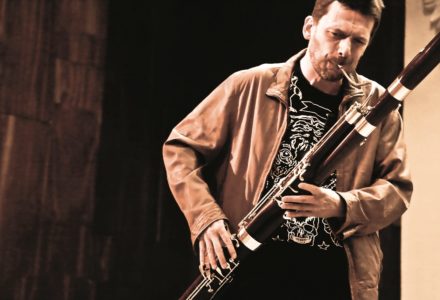 Polish-born Jarek Augustyniak has been playing the bassoon since the age of 12. In 1988, he graduated with distinction from the Academy of Music in Łódź, Poland with a master's degrees in Bassoon and Chamber Music under Professor Stanisław Sojka. A year later he was a laureate in the XXI Competition of Young Instrumentalists in Włoszakowice. Jarek furthered his studies under the guidance of Vincenzo Menghini, RAI Turin.
Jarek has had a highly successful career as principal bassoonist with several European orchestras including Basque National Orchestra, Nova Filarmonia Portuguesa, Łódź Opera Symphony Orchestra and the Warsaw National Philharmonic. Since 2014 he has been the Principal Bassoon of the BBC National Orchestra of Wales. Established in the British music scene, he is being regularly invited to major ensembles as a guest principal including the Royal Philharmonic Orchestra, Royal Liverpool Philharmonic Orchestra, Welsh National Opera, BBC Philharmonic, Philharmonia Orchestra, Hallé Orchestra, Orchestra of the Royal Opera House Covent Garden and London Symphony Orchestra.
Jarek has fostered an active solo career, playing throughout Europe with Basque National Orchestra, Sinfonietta Académica Navarra, BBC NOW, Surrey Mozart Players and Orchestra De Cymru. Next solo projects will be with BBC NOW and Bath Philharmonic in 2019/20 season and in 2020/21 with Fort Wayne Philharmonic in USA.
His recordings include solo bassoon for the Anri Sala film "1395 Days Without Red" – followed by solo appearance in Centre Georges Pompidou in Paris and a CD recording with Basque National Orchestra.
He was founding member of Spanish ensembles "Quinteto Barroco", the wind quintet "Alizé" and British ensembles BBC NOW Soloists and "Quintillion Ensemble" recording a CD with the latter in 2006. Between 2008-2016 Jarek organized yearly summer woodwind courses in Poland. In June 2017 gave master classes at the Senzoku Gakuen College of Music in Tokyo. May 2018 was teaching in National Youth Orchestra of Great Britain.
As a leading exponent of the bassoon in the United Kingdom and member of the British Double Reed Society, Jarek gives masterclasses and recitals throughout the country. He teaches at the University of Bristol, collaborating regularly with the Guildhall School of Music & Drama in London and Trinity Laban Conservatoire of Music in London.